By Jonathan Rosa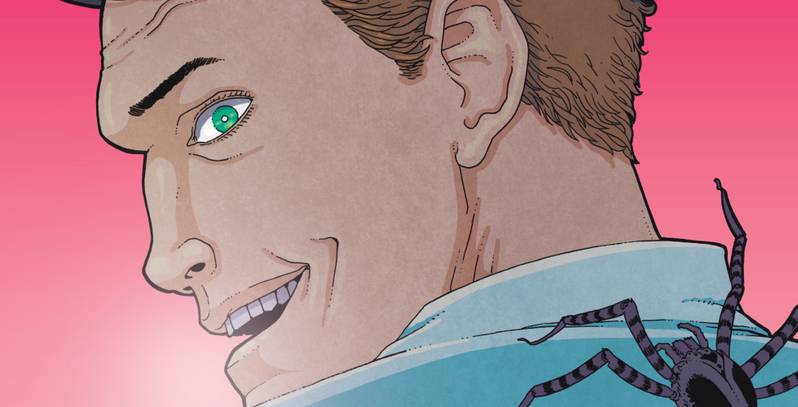 If you though that Freddy Kruger and Pennywise where the only terrifying beings that brought fear by twisting reality to cosmic proportions; well, unfortunately you haven't return to reality. This is due that the Ice Cream Man is the new cosmic terror with its own agenda as he is serving your favorite ice cream while bringing terror to your existence.
Ice Cream Man (2018) is an ongoing Horror Anthology comic series published by Image Comics and written by W. Maxwell Price. This existential horror series focuses on the evils unleashed by the Ice Cream Man who haunts the lives of disparate people across space and time with Ice Cream. Each comic issue tells a story of either a person or group of people who comes across directly or indirectly to this being who categorizes them by ice cream flavor. The flavor represents a certain negative emotion that our victim is experiencing in his or her life. The Ice Cream Man uses his cosmic powers to derail its victims. Without spoiling the comic, here is a brief overview of the first three volumes as you understand a little bit the comic background.
The first volume, Rainbow Sprinklers consists of four issues where the Ice Cream Man makes his introduction to the American small town of St. Generous. The following stories details the unsettling lives of four people:
Raspberry Surprise: Tells the terrifying discovery that Detective Jialeou Hwan finds as she searches for a missing couple while their son buys two scoops of chocolate from the Ice Cream Man.
Rainbow Sprinkles: A drug addict is trying to buy drugs for her lover until she stumbles upon the Ice Cream Truck leading to a terrifying disaster.
Good Ol' Fashioned Vanilla: Bud Hickey is tranced as he tries to remember his good old days of being a rock n' roll star that badly ended. As he tries to make a new song, the Ice Cream Man offers him a good ol' fashioned vanilla which sends him in a strange journey.
Every Good Boy Does Fine: Depressed family man Joel goes to a friend's funeral to perform his eulogy. As he meets with the
man's father, they share a tense talk while something horrifying is occurring in the afterlife. Meanwhile, the Ice Cream Man receives an unpleasant visitor.
The second volume, Strange Neapolitan consist of four issues where the Ice Cream Man's real name is revealed as Riccardus (Rick) as well as his archenemy, Caleb and both get tangled up in St. Generous with the following stories:
Ballad Of A Falling Man: A man is falling from the top floor of a building while inside chaos is runs amok. As the man falls, he confesses his sins.
Strange Neapolitan: Jeremy orders a Neapolitan Ice Cream that tells three different realities of his life with unpleasant consequences.
My Little Poltergeist: Lucy is a young girl who talks with her dead best friend, Kayla much to the dismay of her parents. Venturing on a magical forest adventure with her friend, Lucy encounters a spooky cabin with an Ice Cream Truck.
Emergencies: Apocalypse arrives at St. Generous as seen through the eyes of two EMT drivers. In addition, Caleb shares a warning advice to our readers.
The third volume, Hopscotch Mélange consists of four issues where we see the story of Rick and Caleb as they battle across time and space from past, present and future in these disparate stories:
Western Story: In this origin chapter, Caleb and Rick's history is revealed in macabre ways.
Border Story: In Mexico 1919, Maria is getting married to a general on El Dia de los Muertos as she tries to escape with her American lover, John.
Tv Story: Will Parson is trapped in several terrifying reality shows where the Ice Cream Man is the host.
Space Story: In the near future, Capt. Noah Smith is traveling to a water planet in order to revive the human population. However, an alarm derails his plans as he deals with a fateful encounter.
Ice Cream Man is an amazing existential horror anthology series where our monster, Rick The Ice Cream Man preys on the lives of everyday people who are navigating an array of everyday problems. The comic uses the techniques of breaking the fourth wall, culture clash, and meta narratives to navigate the disparate storylines. After reading 12 issues, I was amazed by the psychological problems of Rick's victims who bear similar problems that everyday people face; similar to Freddy Kruger who invades dreams and turns them into nightmares to exact his revenge and Pennywise who uses the fears of Derry's residents to destroy them. It is intriguing to see a cosmic villain that acts the same way but from a micro to macro scale bent on making chaos. Rick is obviously creative and its great to see him twist modern culture as well as social problems. Still, his agenda has several mysteries as well as his journey alongside Caleb. However, we will see them perform in the future comics. Regarding the storylines, the comic does big favor in presenting the lives of Rick's victims so we can understand their frustrations and feel empathy for them before they meet Rick. The comic does a great balance in handling Rick and its victims' stories as we get two see two worlds ready to collide.
Curious Note:
The third volume, Hopscotch Mélange takes the vein of the Antinovel in which the reader can read without order these chapters. The name Hopscotch is the name of a 1963 antinovel from Argentinian writer Julio Cortázar in which the reader is invited to read a non-linear story with different pathways as suited for him/her. I also notify that I never read Hopscotch since I read an overview of it in history of literature work, but now I'm interested. On the other hand, the word Mélange is defined as "to mix" which is related to mixture of story techniques. Perfectly suited for Ice Cream Man, right?
Overall, for Halloween I recommend Ice Cream Man to every Freddy Kruger or Pennywise fan who enjoys cosmic horror villains and obviously to the horror community. This comic is a great piece of horror that invades our existential emotions regarding life and death, the unexplained, the logical and illogical, and beliefs. Ice Cream Man is a great that even there is a TV adaptation in the works at Universal Cable Prods that last year was announced but there haven't been any updates of it. Still, read the comic on Halloween Season and share your favorite Halloween flavors with your own story.
References
Andreeva, N., & Boucher, G. (2018, October 1). 'Ice Cream Man' TV Series Based On Comic In Works At Universal Cable Prods. Retrieved from Deadline: https://deadline.com/2018/10/ice-cream-mantv-series-comic-universal-cable-prods-1202474420/amp/
DK Publishing. (2016). The Literature Book. New York: DK Publishing.